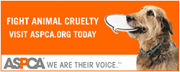 ASPCA: American Society for the Prevention of Cruelty to Animals
A great charity to help our great furry friends, but also helpful information to help in the case of accidental poinsoning of your pet, pet adoption links, disaster preparedness, plus great shopping that helps their cause.



Dogster
Dogster is a fantastic dog community. They also have Catster for the feline folks. Dogster is a free information and entertainment community built by and for dog people. Adopt a new dog. Get answers, recommendations, and advice. Find local pet businesses. Share photos, stories and videos. Keep a diary, join groups of like-minded dog lovers. Have a ball. Don't forget to visit Shilo's Page.

Wagn Pet Safety
If your dog had an emergency, would you know what to do? Wag'N Enterprises, LLC is the First Dedicated Pet Emergency Management Product & Services Company in the World. By taking a ground-breaking approach to pet incident mitigation they strive to keep your pets Wag'N no matter the nature of your emergency. They offer everything from pet first aid classes & kits, pet evacuation kits, pet passports, hands-free leash systems, pet safety driving classes, and pet safety workshops for first responders. Recommended by "The Bark" magazine.

Vet Tech - Search 120+ Vet Tech Schools
Learn how to Become a Vet Tech and get your Vet Tech Training online. Search 120+ Online Vet Tech Schools to find the top Online Vet Tech programs for you.
eLibrary - Open Ebooks Directory
Directory of most Ebooks sold on the Internet. Free for addition of one's own Ebooks. Shilo's book is listed!